Cover2 Resources:
Website Design and Launch
Clean design + intuitive user experience = nonprofit reaching its audience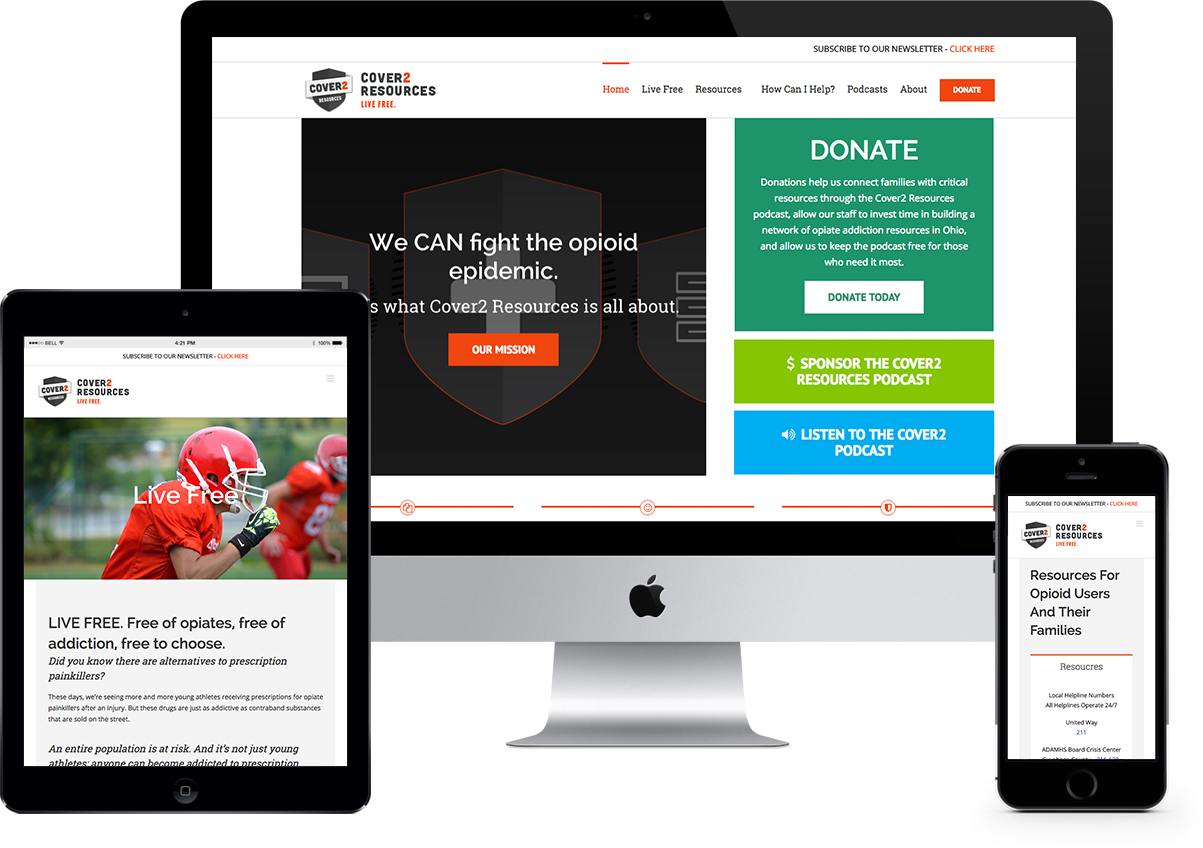 Cover2 Resources: Educating and encouraging families of opiate addicts.
This project hits close to home for the 216digital team. Our Founder and CEO, Greg McNeil, lost his son Sam to a heroin overdose in October, 2015. In response, Greg founded
Cover2 Resources
, a 501 (c) 3 nonprofit organization, to give families of opiate addicts the resources they need to fight this growing epidemic.
Like many young people, Sam discovered heroin after he was prescribed opiate painkillers for an injury. As Greg and his family dealt with this tragedy, they realized that a growing number of families are not equipped to deal with the many paths which may lead a loved one to addiction. Greg decided to fight this trend by launching the Cover2 Resources Podcast, an audio series in which he interviews experts who are battling the opioid epidemic.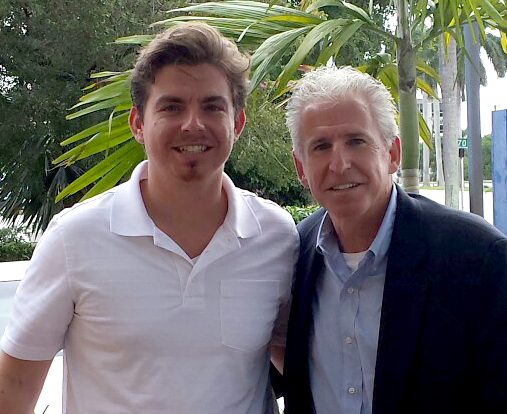 Cover2 Resources: A unique challenge for 216digital.
Designing and launching the Cover2 Resources brand presented unique challenges for the team at 216digital. The website had to reach two audience segments and drive each one to take action.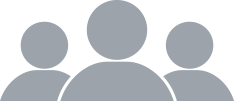 Audience Segment 1:
Opiate addicts and their families in need of critical resources.

Audience Segment 2:
Corporations and private donors who want to fight the opioid epidemic with charitable donations.
These audience segments have vastly different needs, and Cover2 Resources needed a unique CTA (call to action) for each one.

CTA, Segment 1:
"Listen to the Cover2 Resources podcast."

CTA, Segment 2:
"DONATE—Help us connect families with critical resources through the Cover2 Resources podcast."
Donate
Donations help us connect with familiars with critical resources through the Cover2 Resources podcast, allow our staff to invest time in the building a network of opiate addiction resources in Ohio, and allow us to keep the podcast free for those who need it the most.
Donate Today
The website had to showcase the Cover2 Resources Podcast while also encouraging visitors to donate to the nonprofit. This required a careful use of real estate. Design, copy, and user experience had to work together to support a two-pronged marketing voice appropriate to this nonprofit's mission.
Developing in WordPress: Achieving goals with efficiency of code.
Since Cover2 Resources did not require complex ecommerce functionality, WordPress offered the right compromise between flexibility and ease of deployment. However, working in WordPress isn't always a walk in the park. The platform is notorious for introducing inefficiencies which aren't present in custom hard-coded sites. Ultimately, however, WordPress is still the most efficient way to produce a custom informational website that doesn't require complex functionality. In the case of Cover2 Resources, we had to make careful decisions that balanced the impressive functionality available in the WordPress theme with fast load time and ease of use. This meant careful construction of the homepage slider, judicious placement of SoundCloud player embed code, and professional minification of JavaScript to decrease load time.
The resulting site strikes the perfect balance between instantaneous load time and beautiful user experience.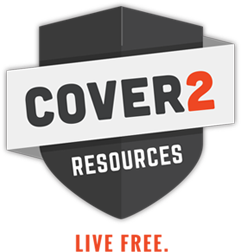 Professional logo and album art design: Critical to nonprofit success
A great logo
is crucial to for-profit businesses as well as nonprofits. In the case of a nonprofit, a logo helps establish credibility and brand awareness. Cover2 Resources needed a logo, and the 216digital design team stepped up to the plate.
Cover2 Resources also needed cohesive branding across the logo, the site, and the album art for its recurring podcast series. Our design team created memorable art for each season that harmonized perfectly with the Cover2 Resources brand.
Podcast publication: Turning a WordPress site into an internet radio station.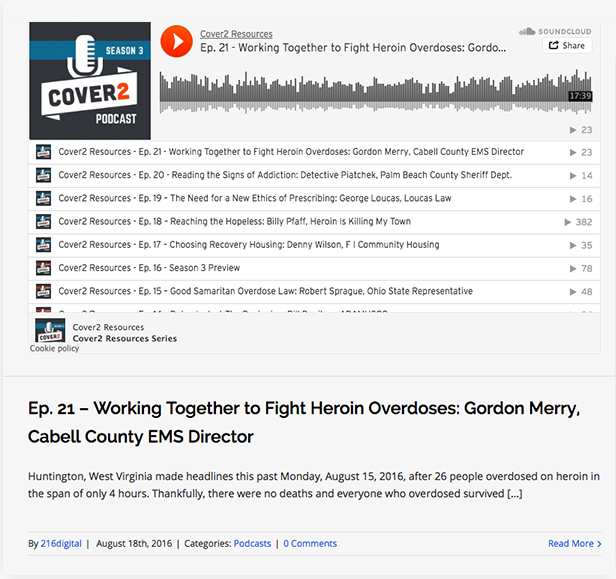 SoundCloud
as the audio hosting platform, and we brought the audio over to Cover2.org via the embed code which SoundCloud provides. Since Cover2 Resources would not be publishing a regular written blog, we decided to use the Posts and blogroll function in WordPress to publish the podcast. Now Cover2 Resources releases each new podcast episode in its own post. This makes it easy for users to focus on the post they want, while they can return to
http://cover2.org/podcasts/
to see a playlist of all available episodes imported directly from SoundCloud.
Cover2 Resources' primary media presence is a podcast. Founder Greg McNeil interviews experts who are fighting the opioid epidemic, looking for best practices and resources to share with families in need. An independent podcast is easy to set up on WordPress—it just takes a little creative thinking. Since audio files can be quite large even in MP3 format, we knew we had to host the Cover2 Resources podcast offsite. We selected
Paypal: Enabling tax-deductible donations without expensive ecommerce development.
Unlike many 216digital clients, Cover2 Resources did not have a catalog of products to sell. As a nonprofit, they needed to take donations, but they did not need any type of onsite ecommerce functionality. Paypal was the obvious solution.
To support Cover2 Resources' mission, we designed donation and sponsorship CTAs integrated with Paypal. From start to finish, we ensured that this user experience supported a marketing voice appropriate to a nonprofit.
The Bottom Line
We took great pride in helping our founder Greg achieve this important milestone for his newly christened foundation, Cover2 Resources. We built a clean, fast-loading site that helps connect opiate addicts and their families with the resources they need. Ultimately, we hope this site will help curb the opiate epidemic. What's your mission? We thrive on creating unique web marketing presences for people with big visions. Get in touch today, and let's start talking about your next big thing.