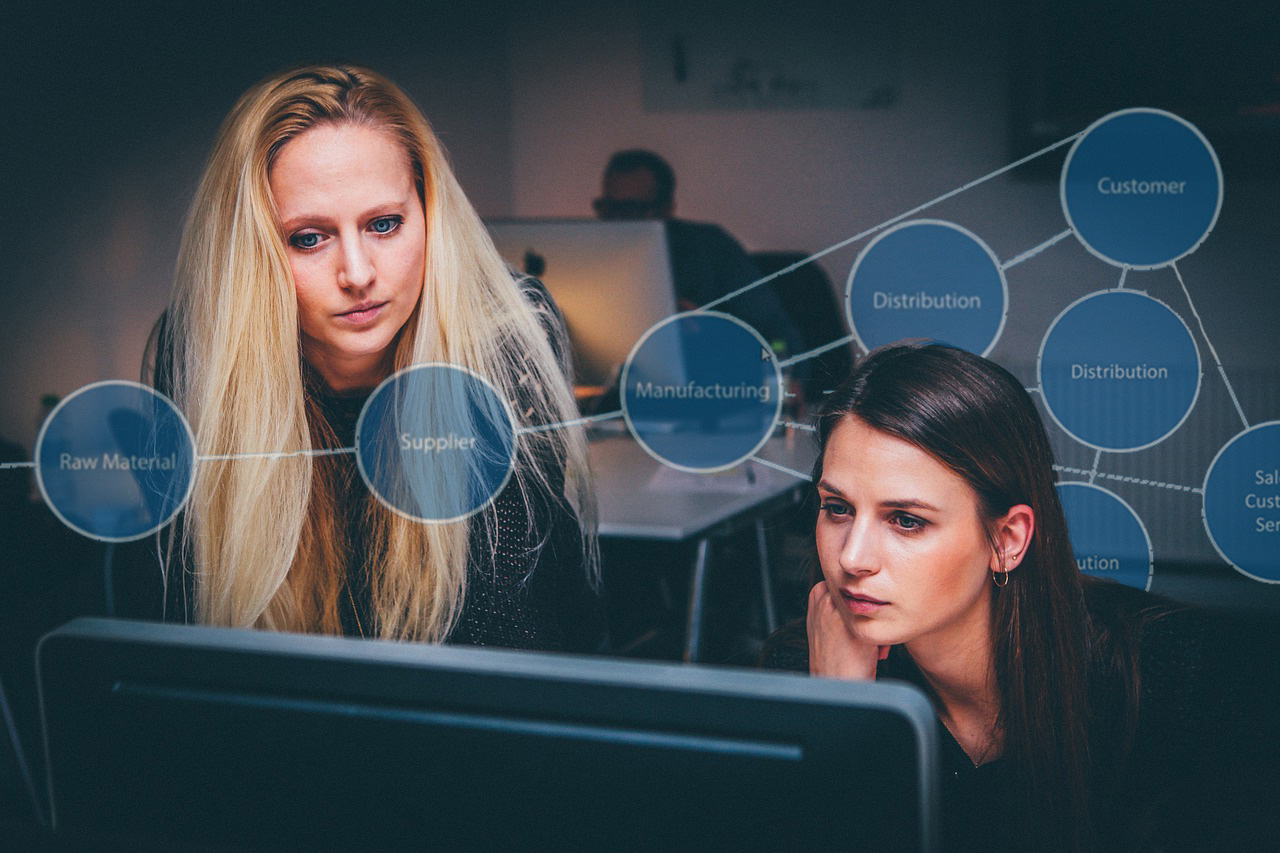 Graphic courtesy of Four51 OrderCloud. Used by permission.
The world of B2B selling is ripe for a revolution. Ecommerce technology has flourished in the B2C sector for decades, but it has not yet seen widespread adoption in B2B. Of course, that's for good reason: the limitations of old software made ecommerce cumbersome in the complex world of B2B.
All that has changed. B2B ecommerce is now a viable alternative to the complex legacy systems used by many B2B companies. The benefits of adopting an ecommerce model in the B2B sector are many. To the company, ecommerce offers a better bottom line with less waste, higher margins, and all backend complexity maintained and streamlined; to the customer, it offers a simplified, intuitive buying experience that works on any device.
For today's B2B executives and managers, only one question remains: which B2B ecommerce platform is right for my company?
Which B2B ecommerce platform is right for your company--PaaS, SaaS, or in-house?
Click To Tweet
First, we'll talk about the problem. Then we'll outline 4 potential solutions.
The Problem: B2B Ecommerce Solutions Must Handle Complexity Efficiently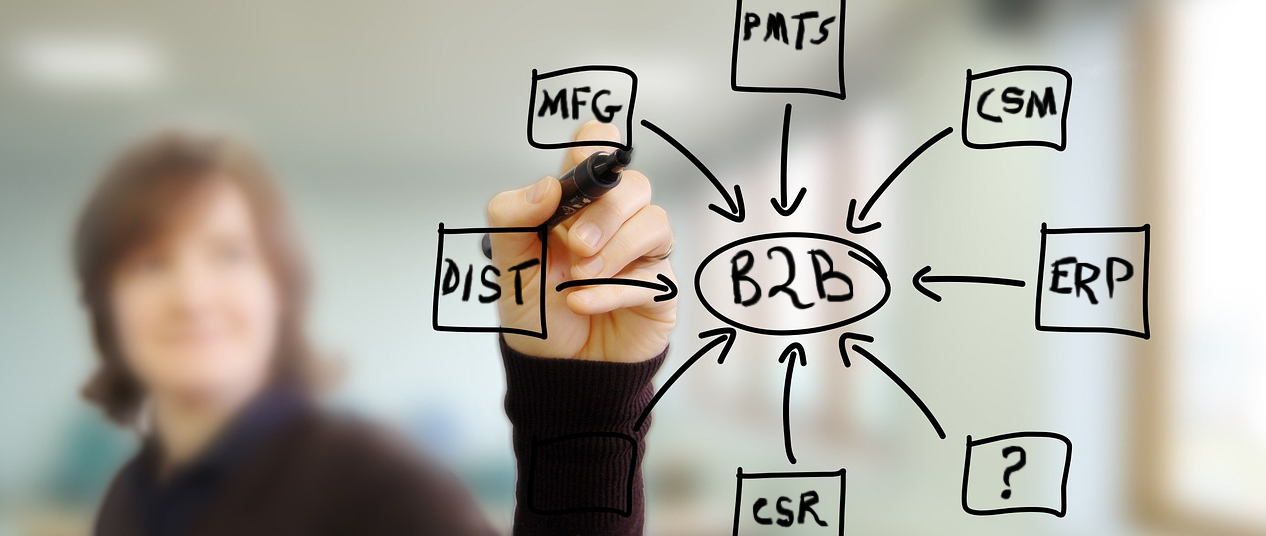 B2B selling is complex. In many legacy systems, that complexity means wasted time, money, and effort. For example, a typical B2B sales path might include:
A customer service representative who takes orders over the phone and enters them manually into a tracking system.
An email newsletter platform that can only communicate with a customer database through manual data entry.
Inability to take electronic payments.
Customer-facing website that displays products but cannot offer on-site purchasing due to complex permissions governing pricing.
Customer-facing website that is not optimized for mobile devices.
Each of these points of information exchange contains hidden inefficiencies. These inefficiencies add up to lower margins across the board for B2B companies.
Ordering through CSRs may not be the first choice of some demographics, such as Millennials. That means HR expense that may not be necessary.
Manual data entry is inefficient.
Processing non-electronic payments can be time-consuming.
A non-ecommerce website serves as little more than a print catalog of offerings, forcing the customer to jump through another hoop (phone call or fax) after determining what to purchase.
A non-mobile-friendly website could lead to missed sales as mobile users give up on type that is too small to read and buttons that are too small to tap.
Worse, every time information is exchanged within a system like this, there's potential for error—which introduces even more waste.

CSRs can make mistakes in manual order entry, leading to costly returns.
Marketers building email lists from customer lists can make mistakes in data entry and grouping.
Paper invoices and checks can get lost in the mail.
Customers can make errors in relaying their buy lists to a CSR. These errors may come under dispute later.
For non-mobile-friendly B2B ecommerce websites, difficult navigation leads to more attention needed from CSRs. That is a cost to the company.
Solution 1: Cloud-based PaaS (Platform as a Service)
In an interview on the 216digital blog, Bill Osteraas, VP of Channel Development at OrderCloud, talked about the features which PaaS offers for B2B ecommerce. "We face this topic with a different approach," he said. "Flexibility over features."
OrderCloudIO shatters the B2B ecommerce PaaS market with 'flexibility over features'
Click To Tweet
OrderCloud is an API-first platform that allows developers to build the exact custom apps that a unique B2B ecommerce client needs.
In other words, B2B managers don't have to sort through a long list of "included" and "not included" features when trying to figure out if OrderCloud's PaaS will work for them. If other B2B ecommerce solutions are a finished house with most fixtures installed, OrderCloud is a floorplan and foundation. Everything else is open for development, ready to be built out into a unique, efficient configuration.
In the world of B2B ecommerce solutions, PaaS is ideal for companies that have complex relationships with manufacturers, suppliers, distributors, and multiple sets of customers. Platforms like OrderCloud are ready to be built out into multi-portal ecommerce stores, with features like varying permissions per user group, variable pricing per user group, CSR interface that talks directly to inventory, and much more.
Example 1: Bachman's B2B Ecommerce Model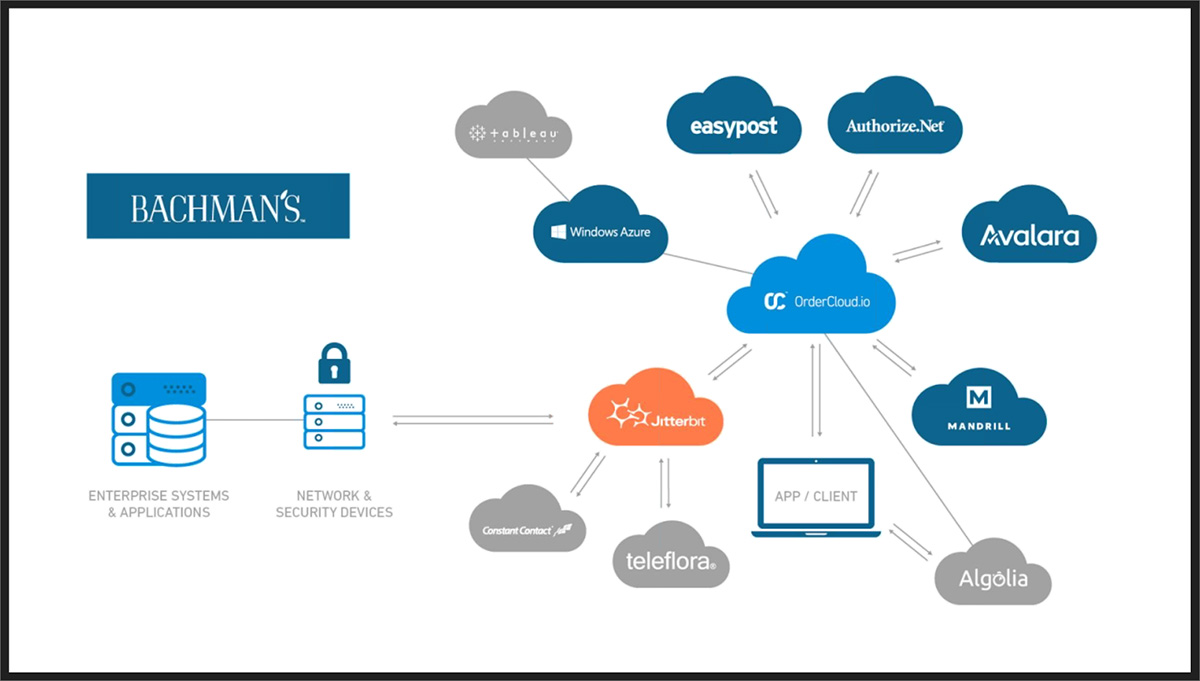 Image courtesy of Four51 OrderCloud. Used by permission.
Because OrderCloud is PaaS, the core foundation is ready to integrate with all the 3rd-party APIs that this company needs to run their business. The flexibility allows a custom solution, and the company pays only for what they need.
Pros of cloud-based PaaS for B2B ecommerce:
API-first configuration ensures that your third-party software will work seamlessly with your store across ongoing upgrade cycles.
Your custom PaaS solution is built right the first time with functionality that fits your unique, complex operation and the place you occupy in your market.
You do not pay for a one-size-fits-all SaaS solution that then requires customization to work for your unique business.
You don't have to build from scratch. A raw, highly-adaptable framework is provided, ready to be built out.
Your custom applications are cloud-hosted and can be accessed from any web browser.
Upgrades are automatic.
Pay-as-you-go pricing.
Flexible support plans that grow with your business.
PCI compliance built in.
Total flexibility in payments.
Omnichannel order management.
Total order fulfillment tracking.
Powerful CSR automation.
Solution 2: Licensed SaaS (Software as a Service)
In a SaaS (software as a service) solution that is not hosted by the software provider, you purchase a license to use ecommerce software. You must arrange your own web hosting and install the software there. This is a common arrangement in the B2C ecommerce world. How well it adapts to B2B will depend on your business's unique needs.
Common SaaS ecommerce platforms not hosted by the software provider include Magento and WooCommerce. Note that while these platforms can be adapted for simple B2B operations, they were originally intended for B2C ecommerce. They may not provide all the custom rules which a B2B ecommerce solution requires.
A SaaS solution for B2C may not provide all the functionality required by B2B ecommerce
Click To Tweet
Pros of Licensed SaaS:
You can choose the most competitive hosting plan that meets your company's specific needs.
Because hosting is not tied to your ecommerce software, the cost of your hosting will likely depend on bandwidth and storage needs, rather than a sliding revenue-based scale.
Likewise, there are no transaction fees deducted from your revenue.
Cons of Licensed SaaS:
You must adapt an out-of-box solution, with or without customization and/or add-ons, to the complex needs of your unique B2B ecommerce operation.
SaaS solutions are often not API-first.
You may have to establish PCI compliance yourself.
You are responsible for routine maintenance, updates, and upgrades to your ecommerce store.
You are responsible for emergency troubleshooting if the store goes down or a third-party integration stops working with your store.
Third-party integrations, critical to B2B operations, are often available only in paid add-ons which must be updated separately from the core software. These add-ons can break your store when compatibility issues arise.
Unknown whether you can create customer groups that allow multiple users from a customer company to log in and see each other's orders.
Checkout process may require modification to meet the complex needs of B2B.
Solution 3: Bundled Hosting and Ecommerce (Cloud-Based SaaS)
SaaS hosted by the software provider offers tradeoffs which may be attractive to some business models. These solutions may charge revenue-based fees and/or transaction fees for use of the service. They are generally geared toward B2C ecommerce startups, and their application to large B2B enterprise operations is questionable.
Common SaaS ecommerce solutions hosted by the software provider include Bigcommerce and Shopify.
Pros of cloud-based SaaS hosted by the software provider:
All-in-one ecommerce and hosting package that does not require you to get your own hosting.
Software updates are pushed automatically without compatibility issues.
Cloud-based solutions are generally PCI Level 1 compliant.
Easy, cost-effective solution for small B2B startups that do not require complex functionality and do not plan to grow beyond the capacities of cloud-based SaaS solutions.
Omnichannel functionality is available, generally with paid extensions.
Cons of cloud-based SaaS hosted by the software provider:
Different pricing for different customers or for different customer groups may require third-party add-ons.
Complex permissions structures may require third-party add-ons.
Revenue-based pricing.
Transaction fees.
No FTP access.
SaaS solutions are often not API-first.
Unknown whether you can create customer groups that allow multiple users from one company to log in and see each other's orders.
Checkout process may require modification to meet the complex needs of B2B.
Solution 4: Proprietary, In-House Ecommerce Software
Frankly, this is an obsolete solution. Even for large companies that can afford the expense, the benefits gained by such a great capital outlay are available for a much lower price with a PaaS solution. Since PaaS providers like OrderCloud have already covered the ground of building the foundation, you gain nothing by reinventing the wheel—particularly when these providers make their reusable ecommerce foundations available at highly competitive prices.
Pros of proprietary in-house B2B ecommerce solutions:
Total control over all aspects of the solution.
Cons of proprietary in-house B2B ecommerce solutions:
They uselessly reinvent the wheel.
They do not provide any value beyond that of existing solutions.
They cost far more than any PaaS solution to develop, deploy, and maintain.
Making a Decision
Paul Demery reports in B2B Ecommerce World on a recent study by Forrester Consulting with examined emerging trends in PaaS and SaaS deployment for B2B ecommerce. The study found that "the rate of increase in planned PaaS-based deployments over the next two years is twice that of the increase in planned SaaS-based deployments."
Over next 2 yrs, rate of planned increase in PaaS installations=2x planned SaaS installations for B2B ecommerce
Click To Tweet
In other words, the B2B world is moving to ecommerce. And it's choosing PaaS over SaaS.
For B2B decision-makers, the time is now to begin pursuing a new B2B ecommerce solution. As more and more companies roll out their own highly customized B2B ecommerce machines, companies without a competitive solution will be ill-equipped to meet the market's new expectations. They'll be stuck with old processes that don't work and customers who can't get a seamless, personalized front-end experience.
PaaS solutions are beginning to lead the B2B ecommerce services market. We believe that trend will only increase. PaaS solutions offer the right balance between customization and an affordable foundation to build on. Where SaaS is too constraining for modern B2B ecommerce, the sky is the limit with PaaS. Where in-house, proprietary ecommerce solutions uselessly reinvent the wheel, PaaS offers a client-agnostic, reusable foundation for an infinite variety of ecommerce businesses.