The 2016 Fashion/Tech Hackathon: Inspiration, Collaboration, Innovation!
January 29
th
, 2016 marked the date for the third annual Fashion/Tech Hackathon at Kent State University. Students had 36 hours to compete in Northeast Ohio's premier student technology innovation contest. This year, 216digital, Inc. sponsored the event and mentored students in design and programming.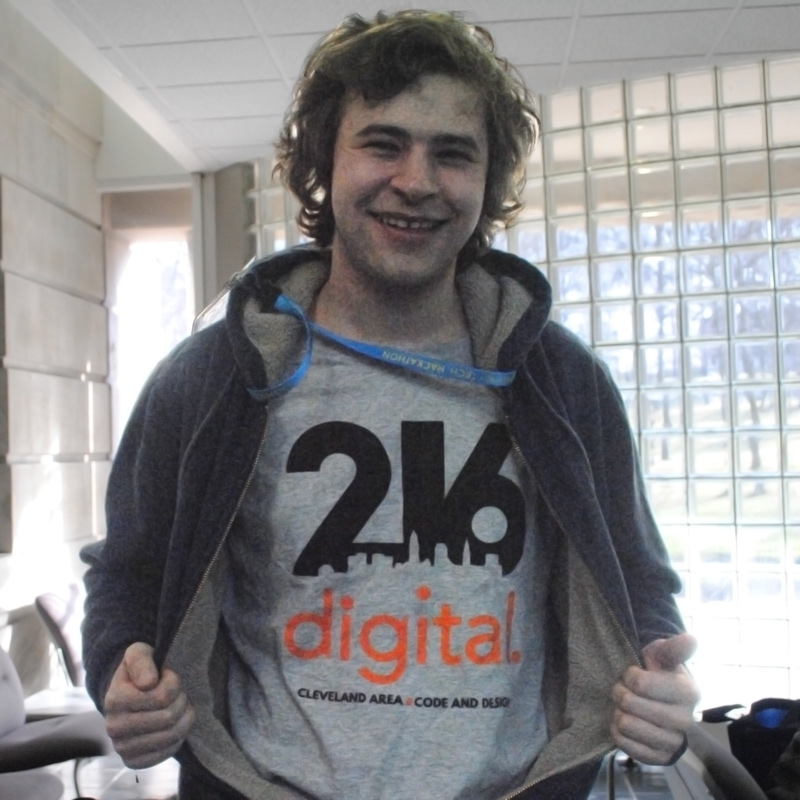 Fashion/Tech Hacker rocks our 216digital t-shirt!
The 2016 Fashion/Tech Hackathon was held at Kent State University's Rockwell Hall, the site of the university's world-famous Fashion Museum. Students from a number of schools, including Kent State, competed in an immersive hands-on design and engineering experience. Attendees worked together using specialized skills, such as fashion design and software engineering, to create beautiful, functional wearable products and fashion-related technology—all within the space of a single weekend. Every year, event curators as well as event sponsors donate their time and resources to make the Hackathon a success. Hackers are given free range of the Fashion School's equipment, TechStyleLAB equipment, and a tremendous amount of free hardware and textiles. This freedom makes the Hackathon a hotbed of creative output and innovative design thinking.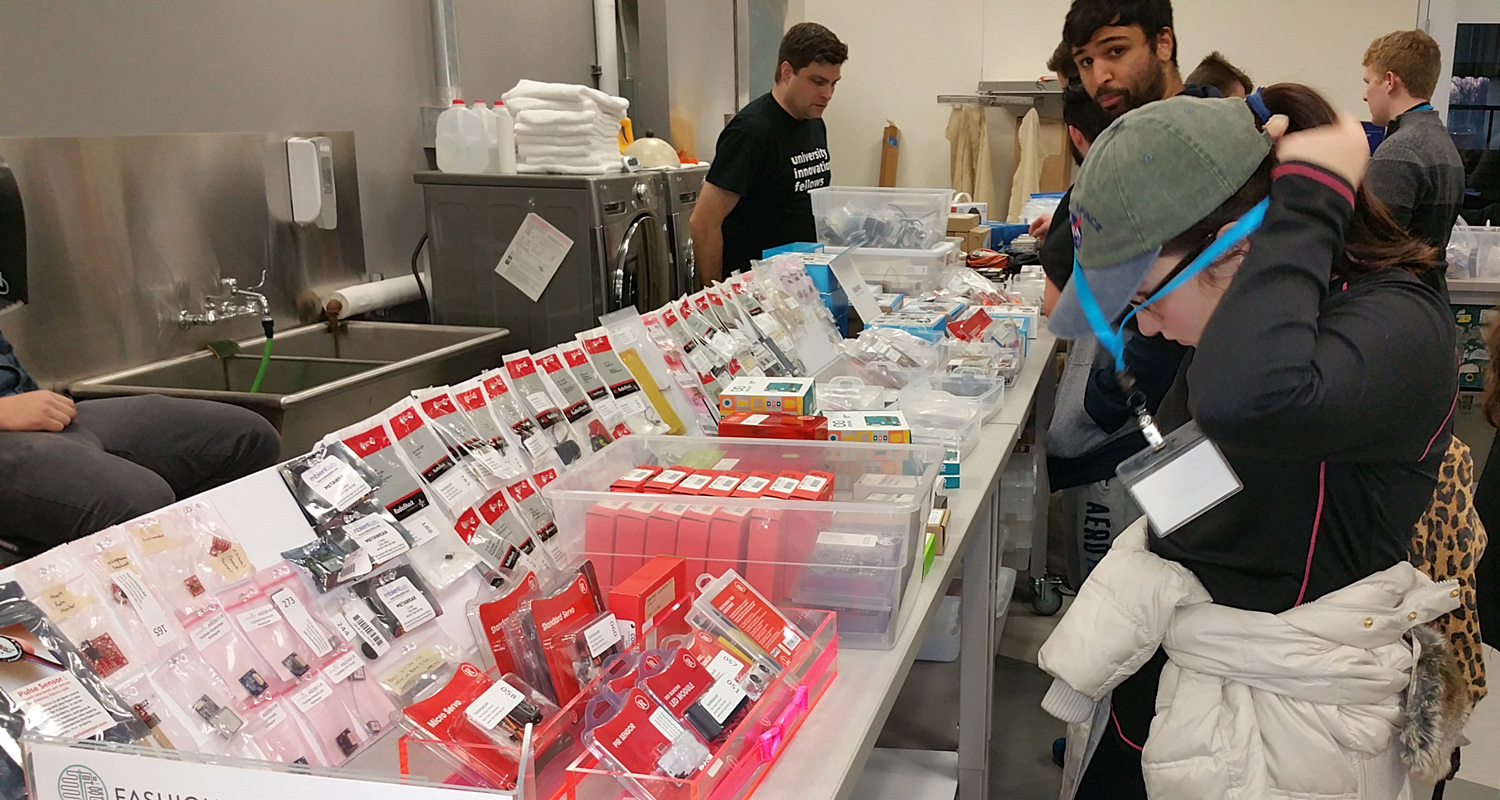 An array of equipment and hardware was available to hackers in the TechStyleLAB.
Top prize categories:
This year, event curators Hacksu, TechStyleLAB, Launchnet, Major League Hacking, as well as a number of event sponsors, offered prizes to hackathon winners. – Creation of a new technology – Advancement of an existing technology – Use of Technology in Creating New Fashion Products – Tech Advancement of the Retail Experience.
Sponsor prize categories:
– Best Project with a Female Team Member – Best Potential BGV Participant – Most Commercial Potential – Best Fashion Tech Forward Design – Best Project on .tech Domains – Best Use of Textiles – Best Use of AWS – Most Flashy – Hack That Builds Most Relationships. We talked to many students, teachers, and sponsors at the Hackathon. The consensus was clear: everyone was blown away by the innovative ideas which the 2016 Hackathon participants came up with. There was definitely something special in the air! The competition fostered a real "no loser" attitude. We saw total strangers collaborate like best friends on incredibly innovative projects. We went to mentor students, but we came back inspired.
Amazing Hackathon Projects: A Quick Tour
People Posing for a Picture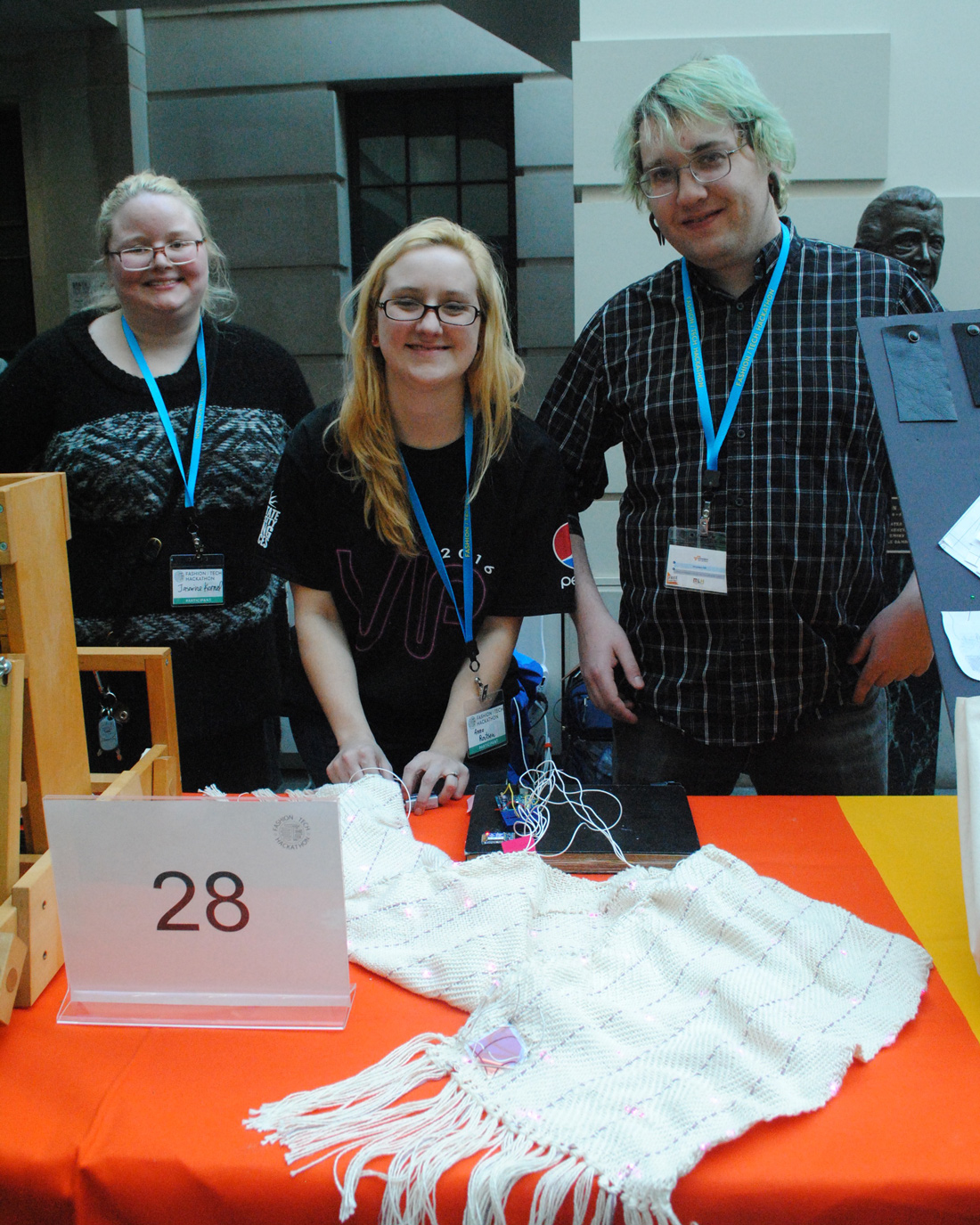 Stuart McKaige, Jasmine Kornel, and Anna Routson developed "Notification Scarf," a scarf that lights up LEDs when you receive a phone notification. View their devpost submission here.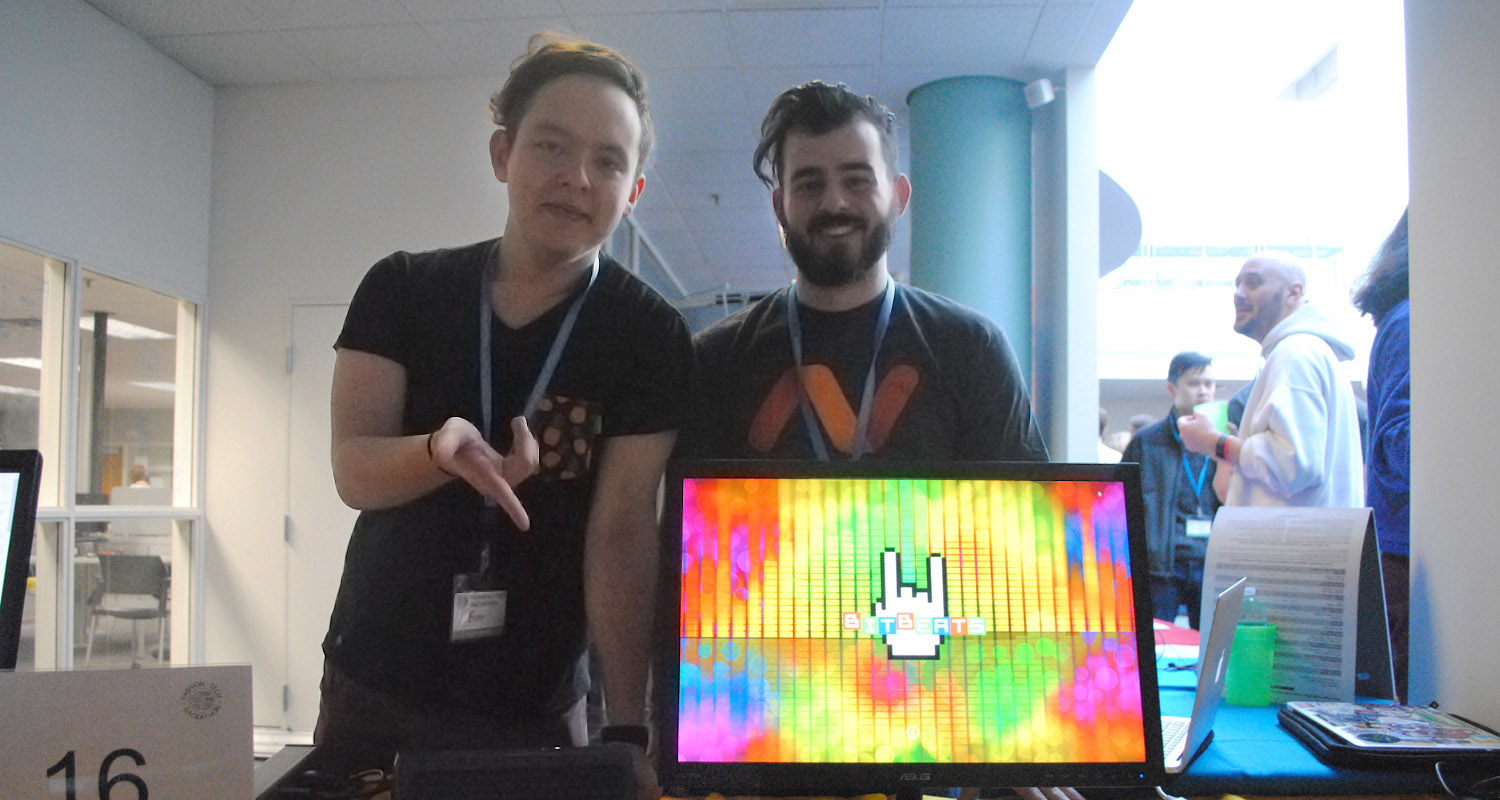 Robert Goldshear, Ben Roytenberg, Reshef Elisha, and Elizabeth Tarleton created "BitBeats," a glove that literally brings music to your fingertips. Alex Bisnett, one of our web developers, has a tendency to finger-drum on his desk. We're getting him this for his birthday. Read more about their project on devpost.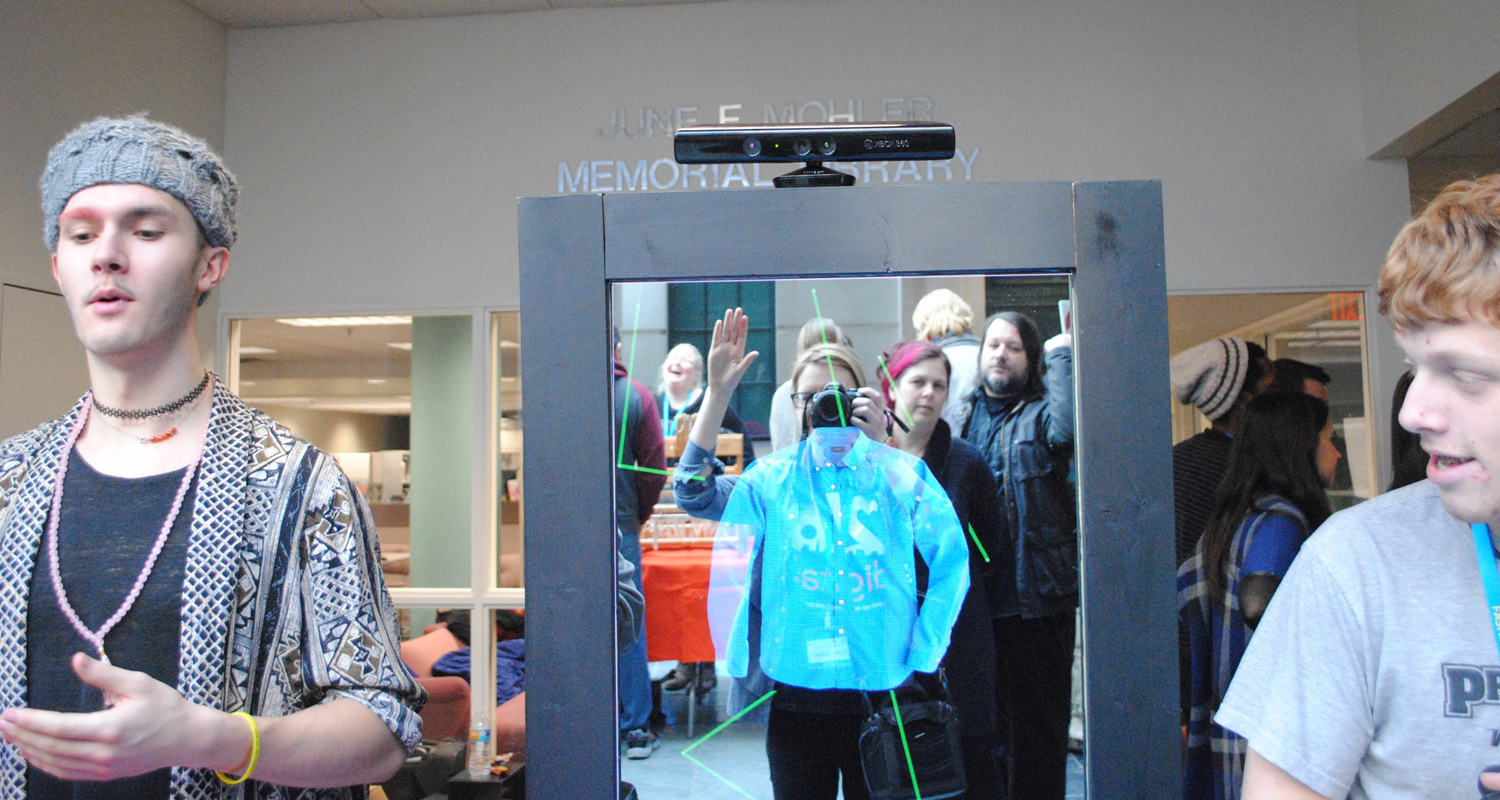 Here, I'm standing in front of "Mirror Catalog," a project developed by Chris Paxton, Matt Gates, and Istvan Gates. Mirror Catalog projects virtual clothing on the user to emulate a dressing room experience. It contains an entire digital catalog of clothing to "try on." Read more about there submission here.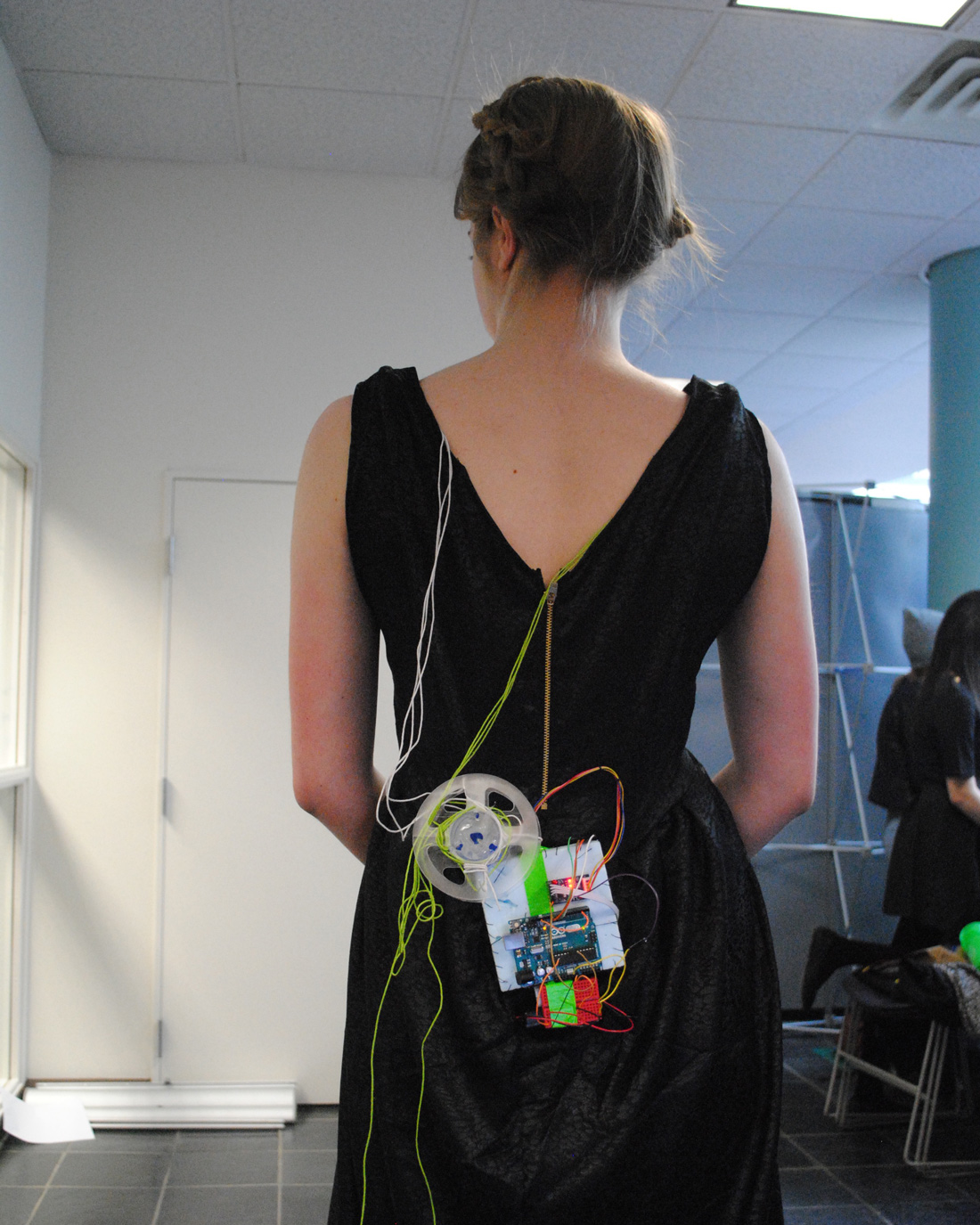 Elizabeth Tarleton models "Elizabeth," a dress that responds to a user's needs. Too cold outside? The dress detects that and lengthens itself for you. At 216digital, we could really use this around the office, where temperatures are known to fluctuate faster than Ohio weather. Want to know more? Read more in their devpost submission.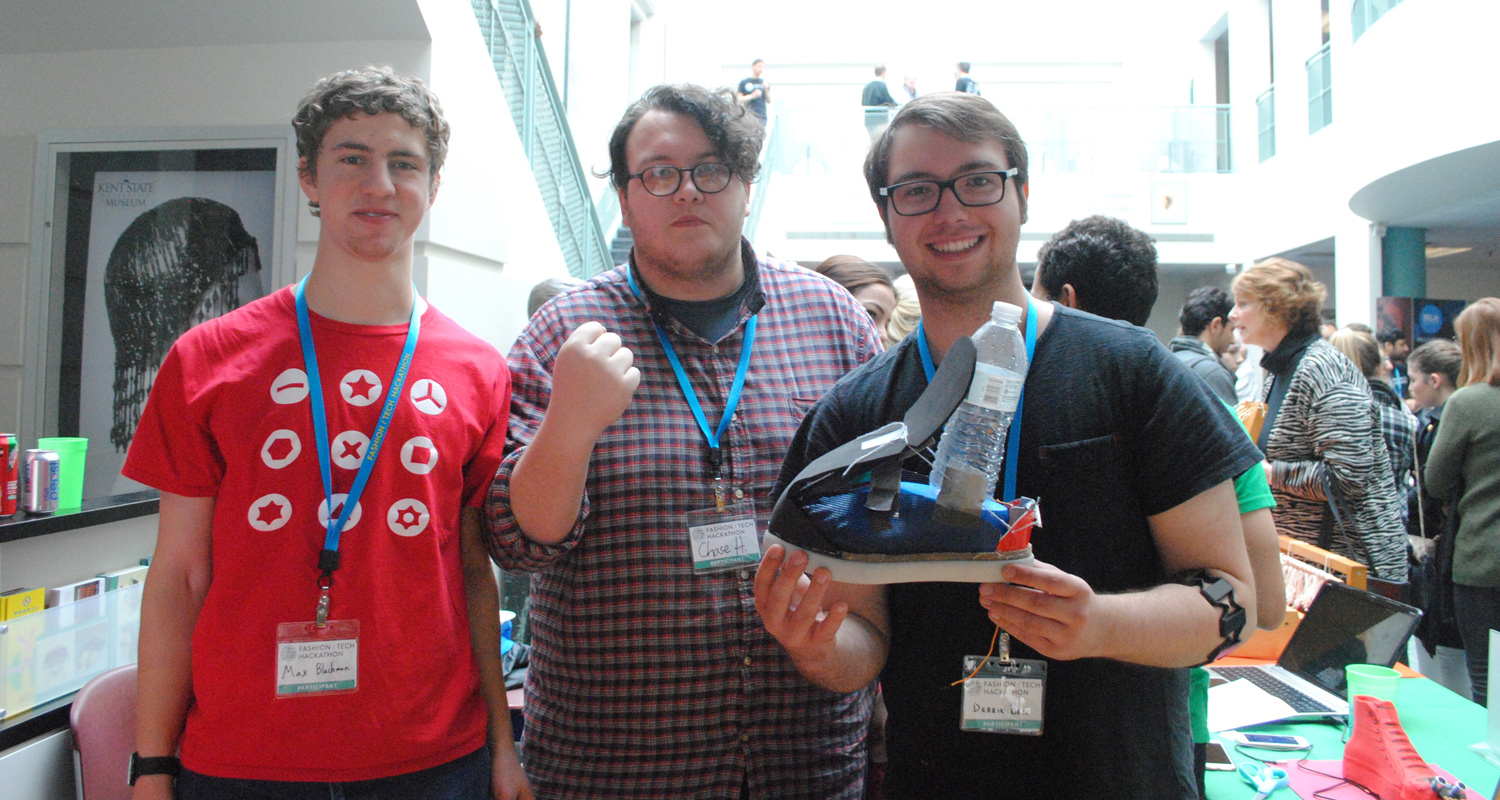 Max Blachman, Derrik Best, Teresa Jones, and Charles Halbeck mimicked the self-lacing shoe from the popular movie Back to the Future. Their shoe, "Exos," offers a new take on self-lacing – a design made to assist people with disabilities. The no-touch shoe is controlled entirely by your gestures. Read more about their shoe here.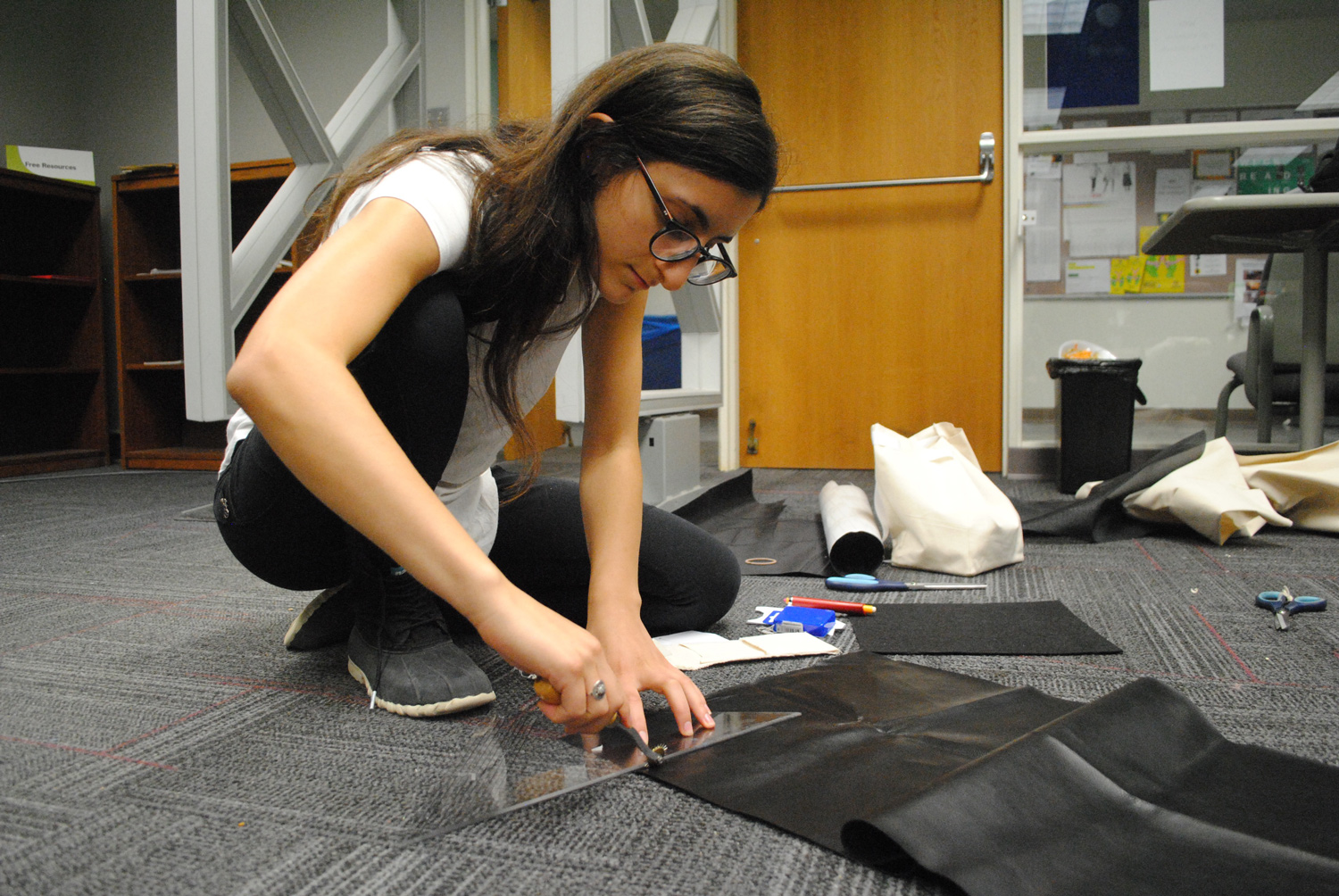 Olivia Burca in the midst of creating an "Al-Timer" wallet prototype.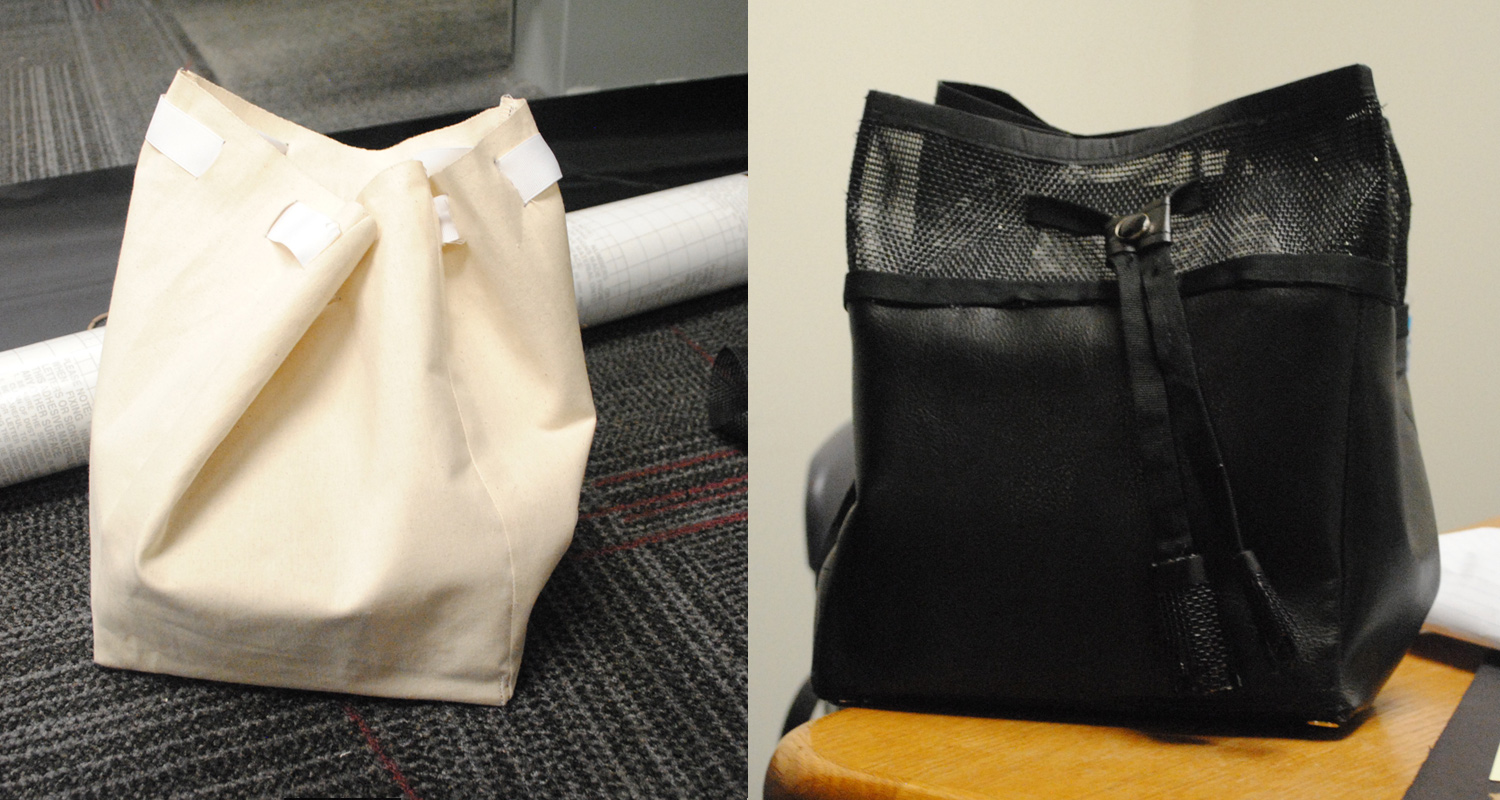 Al-Timer smart purse prototype compared to finished final product.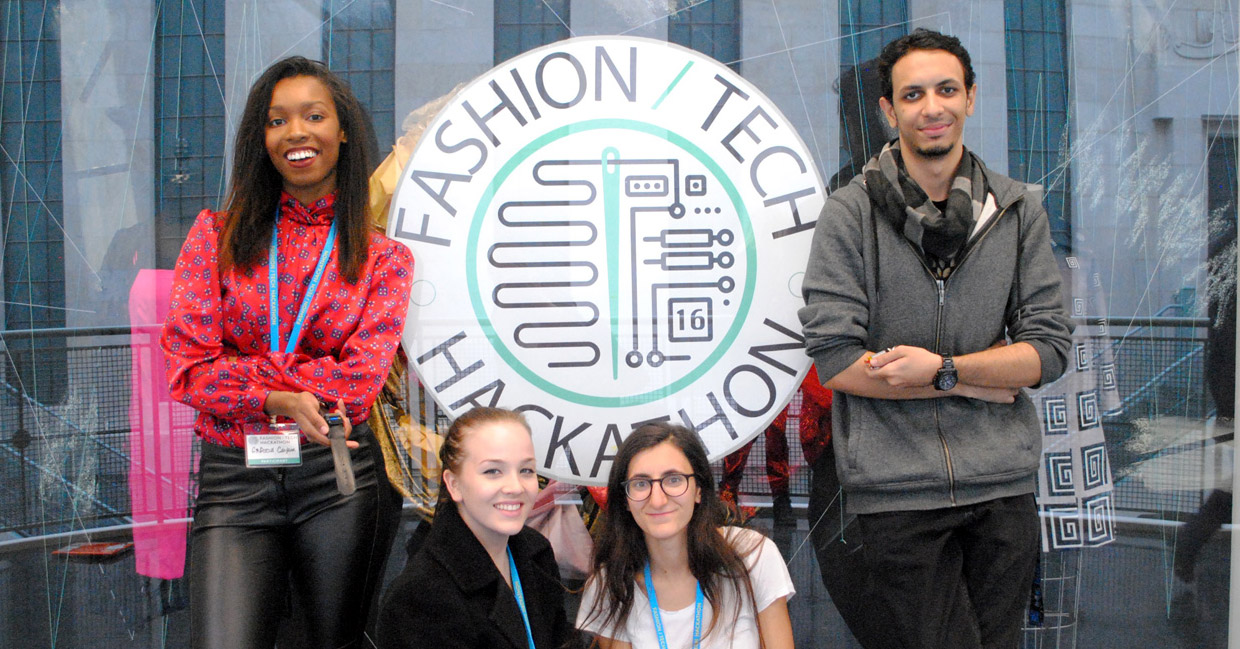 L-R: Crissa Candler, Monica Magliari, Olivia Burca, and Alfred Shaker, team members of project "Al-Timer" (winner of the prize for Best Advancement of an Existing Technology) pose in front of the Fashion/Tech Hackathon logo. View there award-winning project submission here.
View all Fashion/Tech Hackathon project submissions
here
.
The Bottom Line
The 2016 Kent State University Fashion/Tech Hackathon was an incredible hotbed of innovation. We saw truly innovative projects that are forwarding the the marriage of digital technology and everyday physical equipment. While many of these ideas are probably years away from being marketed, we felt privileged to see them emerge from the minds of these talented students. At 216digital, we keep a pulse on the evolution of all things design- and tech-related, and we found this weekend truly inspiring.