Delicious Boutique: Responsive Website Design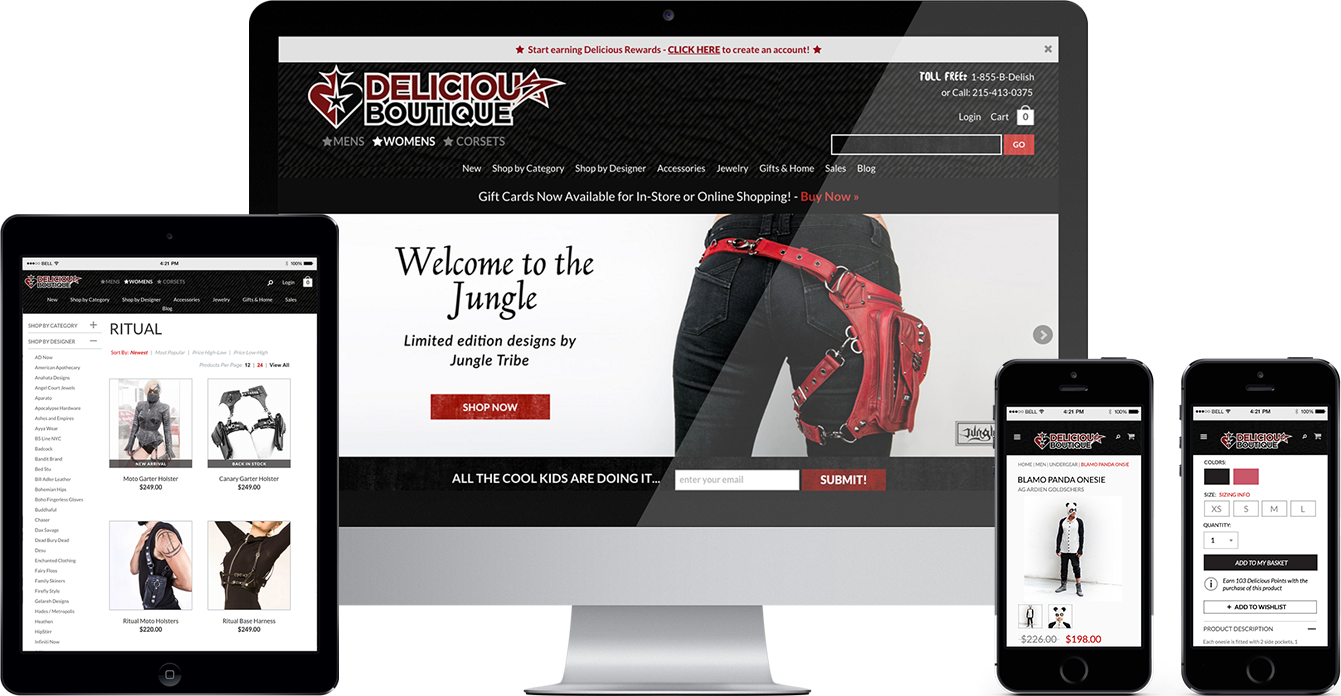 These Clothes Are Ready To Rock. Now The Website Is Ready, Too.
Awesome subculture clothing in a web package that matches.
Delicious Boutique offers kickass men's and women's fashions from independent designers. You won't find these styles at Macy's or Urban Outfitters. These looks are inspired by some of the coolest subcultures around. You'll find clothes from the post-apocalyptic, tribal, and festival niches, and Delicious Boutique hand picks all their lines. They sell styles from designers like 14th Addiction, Phoenix Rising, Junker Designs, and Jungle Tribe. Their catalog is coordinated and cohesive. In a word, they offer one of the most unique brand experiences in subculture fashion today. Take a look around the site—you'll be amazed.
"Our existing site—I loved it for what it was when it launched around 2005. Though it represented our personality, it didn't reflect new design styles."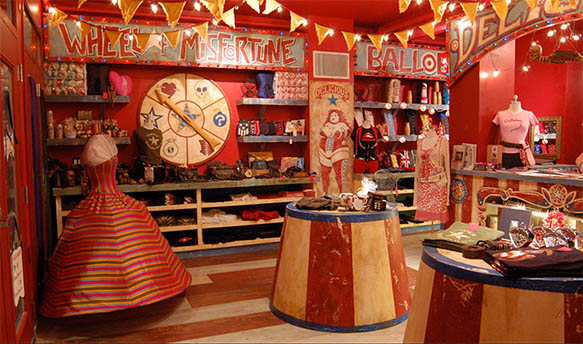 Delicious Boutique store interior based in Philadelphia, PA.
Psydde Delicious launched the Delicious Boutique website in 2005. He needed an ecommerce store to match his brick-and-mortar business, which featured dark, unforgettable circus-inspired décor. His original Miva site was phenomenal. It fit his target niche perfectly, and it gave him plenty of ecommerce functionality.
However, ten years later, the site was looking dated. As Psydde put it, "Our existing site—I loved it for what it was when it launched around 2005. Though it represented our personality, it didn't reflect new design styles. I felt it needed a fresh design, and it needed to be responsive as well." We agreed. Design trends had changed (as they always do), and worse, the site wasn't mobile-responsive. With Google's recent algorithm updates, non-responsive sites now get severe penalties in mobile search results rankings. Psydde's instincts were right: it was time for a change.
Enter 216digital.
Web 1.0. Web 2.0. Mobile revolution. Through it all, we've built stunning ecommerce sites.
Clients who want cookie-cutter websites know where to get them. We don't deal in those. We believe that a unique brand experience can only happen on a unique website. There are many routes and budget sizes that can achieve that goal, but we believe the final result is irreplaceable: a website so unique, your customers will never forget it.
Psydde had worked with 216digital before, and he came to us with highly specific needs for his new Miva responsive design. We saw right away that Psydde needed some unique functionality to achieve the innovative brand experience he envisioned. Through an ongoing process of open communication, we worked with Psydde to nail down exactly how his dreams would become a reality in Miva.
Delicious Boutique: A Unique, Delicious Site To Match A Great Brand.
In Today's Ecommerce World, A Logo And A Niche Isn't Enough. You Have To Wow Your Customers With A Cohesive Brand Experience.
Psydde was gearing up to celebrate the 20th anniversary of Delicious Boutique. He had an awesome idea: what if he could display ads on category pages, in slots that would otherwise display products? We saw right away that Psydde's idea was innovative. It was almost like native advertising by the brand, within the brand experience. As Psydde said, "216digital built a whole Miva module to control that functionality. I can go in, select which categories these ads display on, the frequency—I can even block categories from receiving global ads. It's pretty cool." We developed a custom utility in Miva to make this a reality. Basically, our custom work allows Psydde to set these attributes globally, across the site.
"I can go in, select which categories these ads display on, the frequency—I can even block categories from receiving global ads. It's pretty cool."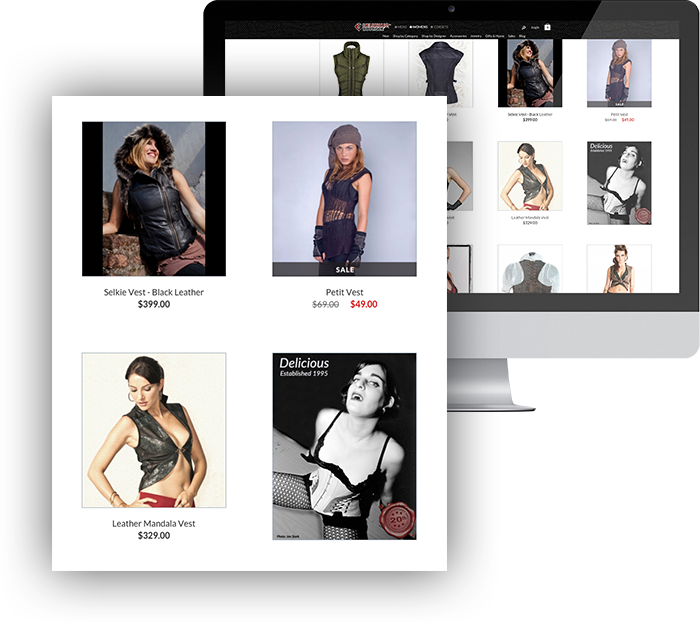 We also built a product badges feature for Psydde. If a custom field is populated with the word "SALE," for example, the word "SALE" will display at the bottom of product images for products that have that attribute. As Psydde put it, "If I have a product with a regular price and a sale price, the custom utility dynamically assigns the 'SALE' badge to the products that are on sale. I also wanted to be able to single out special order, preorder, and new items. It's super easy now with the custom fields that assign it."
As Mobile Home Parts Store owner Tim Peele put it, "I wanted a responsive design. The majority of my traffic is coming from mobile. I wanted the site to look better on mobile and tablet. Plus it was just time for a redesign. It was at least 5 years since the last one."
216digital: Ecommerce Experts
With A Keen Sense For Ecommerce Success, We Help Clients Succeed By Building AND Advising.
It's universally acknowledged that human beings work better together than they do separately. This philosophy informs everything we do at 216digital. When it comes to design and development projects, we don't hesitate to provide feedback when clients tell us what they want. Sometimes, we advise a client to think carefully about something they've requested. Occasionally, we even recommend moving in a different direction altogether.
In Psydde's case, our working relationship was truly symbiotic. Psydde brought us amazing ideas and a refreshing vision. Sometimes, we pushed back. Psydde said, "As a project manager, Stephen Kam [our Digital Strategist] knows how to reel me in. I can go off on tangents sometimes. I hit you guys up with ideas, things I wanted. 216 was like, 'okay, but we have these suggestions. We get the idea—here's the best way to approach it.'"
We're builders and advisers.
Psydde also appreciated how receptive we were to his thoughts. "I always went in with ideas," he said. "I think they feared what they were going to get in my emails." He started laughing. "My emails are very long."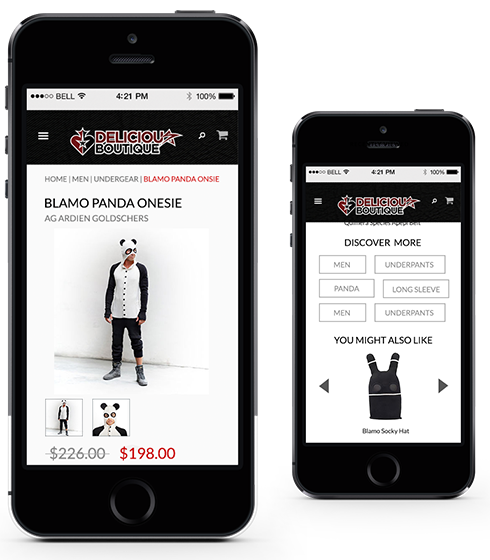 At 216digital, how do we see our role? We're builders and advisers. Many firms can build and deliver what you ask for. Not everyone has the expertise to see your requests in the context of the larger ecommerce space and in the context of your market. When we couple thorough market analysis for every client with our deep knowledge of ecommerce best practices, the result is a unprecedented kind of collaboration between agency and client. This creates a product that's stronger than the sum of its parts.
The Bottom Line
If you're ready to translate your unique brand vision into functional, beautiful brand experience, get in touch today.
Our creative team matches client visions to web realities with a synergy that's unrivaled in the industry. Are you ready to build your dream site? Get in touch today, and let's start talking about your next big thing.